Susan Ariel Rainbow Kennedy (known by her pen name, SARK) is a prolific artist and writer of books made to awaken the playful child within all of us and to teach women how to heal from trauma and become their best selves. Anytime I feel creatively stagnant, I come back to her books for a lighthearted push to keep going.
SARK uses colorful markers and watercolor paints to hand write and illustrate the original copies of her books. She includes motivational quotes and relevant resources like books and websites to further stimulate the imagination. She even has an "inspiration line" that readers can call 24 hours a day for a brief, encouraging message. Try it yourself: 415.546.EPIC (3742).
"We deserve wildness. Wildness can be as simple as wearing tall boots when none of your friends do, or talking to gorgeous strangers, or visiting expensive hotels for just a cup of tea. Whatever takes us out of our routine and gives us a little interior spark, is wild," she says.
Here are a few books SARK recommends to inspire your creative, wild self:
DB 14031
Wishcraft: How to Get What You Really Want by Barbara Sher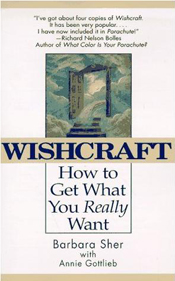 Achieving success does not require drastic character changes, according to Sher, founder of a self-help system called Success Teams Seminars. Instead, she advocates rediscovering one's childhood self and interests and prescribes a form of organized daydreaming designed to define one's true goals.
DB 26986
You Can Heal Your Life by Louise Hay

The author, a metaphysical counselor, asserts that "if we are willing to do the mental work, almost anything can be healed." This handbook tells how to eliminate the blocks to good health and a happy life by regaining one's self-esteem and confidence. Bestseller 1987.
DB 45739
Anatomy of the Spirit: The Seven Stages of Power and Healing by Caroline Myss

Dr. Myss, a medical intuitive, motivates people to cure their bodies through spiritual healing. Myss draws on principles from three major religions to present her program to patients. Bestseller. 1996.
DB 48465
My Family and Other Animals by Gerald Durrel

A naturalist recounts his adventures and those of his British family during the five years they lived on the island of Corfu. Age ten on arrival, Durrell enjoyed collecting insects and wildlife. He recalls his parents' and siblings' reactions to his escapades, and his to theirs. Some strong language. 1956.